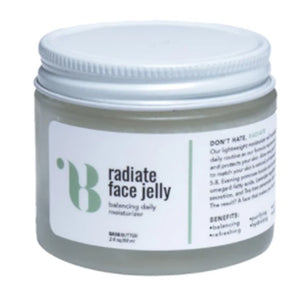 Base Butter - Radiate Face Jelly
Our lightweight moisturizer will revitalize your daily facial skincare routine as our formula rejuvenates, restores and protects your skin.
Aloe vera gel is a skin balancing agent that helps keep your skin's natural pH between 4.2 to 5.8.
Evening primrose boosts skin's elasticity with omega-6 fatty acids, Lavender regulates sebum secretion, and tea tree penetrates the skin to disinfect. The result? A face that makes you look and feel alive.
Why This Formula: Lightweight in nature, refreshing in feel, gel moisturizers are compatible with most skin types. Oily and combination skin types love us! Equipped to hydrate due to its water like base, it easily absorbs all of the formula's nutrients into the skin without a greasy residue.
The best part, a gel moisturizer leaves room for layering on additional products and applying makeup. This product's shelf life is 4-7 months once opened. Store in a cool dry place for maximum shelf life.
Good For: Even toned, moisturized glowing skin