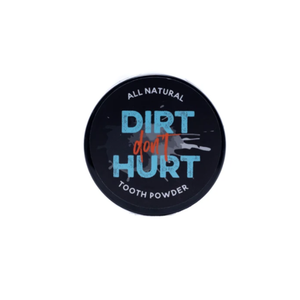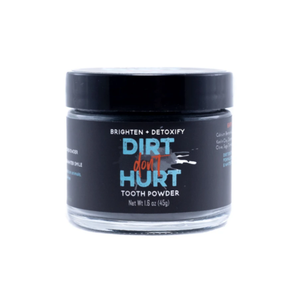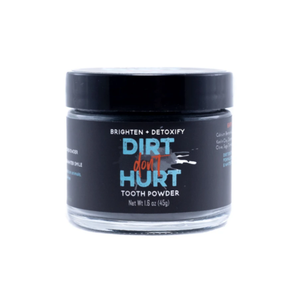 Dirt Don't Hurt Detoxifying Activated Charcoal Tooth Powder
Have a little fun with your daily brushing routine, and don't be afraid to Get Dirty! Our funky, minty toothpowder is an all-natural alternative to traditional toothpaste.  Did you know tooth Powder has been around since the ancient Egyptian's, Romans and Greeks? Natural earth clays, essential oils and herbs were the go to for teeth health then and now.  Our formula is 100% Earth + Plant Based, Vegan & Cruelty Free. Whiten, Brighten + Detoxify with Activated Coconut Charcoal, bentonite clay, Sage, Turmeric, & wintergreen, spearmint and Peppermint. Formulated to re-mineralize; your teeth and detoxify your mouth. Also polishes and scrubs teeth while balancing PH levels in your mouth, freshening breath, removing plaque and fighting cavities. 
Earth Friendly, Fluoride Free, SLS and Glycerin Free, Vegan, Cruelty Free, All Natural
2 oz Jar/ 6 Months Supply
Instructions:
Wet the Toothbrush

Dip the Tip of the Bristles into the Powder

Brush for at least 2 mins, twice a day and rinse as usual

Experience Fresh Breath and a whiter smile
Ingredients:
Activated Carbon (Activated Coconut Charcoal), Sodium Montmorillonite (Bentonite) Clay, Calcium Carbonate, Kaolinite (Kaolin) Clay, Diatomaceous Earth, Sodium Bicarbonate (Baking Soda), Commiphora Myrra (Myrrh Gum) Powder, Syzygium Aromaticum (Clove) , Salvia Officinalis (Sage) Powder , Curcuma longa (Turmeric) Powder, Mentha Piperita (Peppermint) Oil , Mentha Spicata (Spearmint) Oil ,  Gaultheria Procumbens (Wintergreen)
*INTENDED FOR ORAL CARE USE ONLY, NOT INTENDED FOR CONSUMPTION.