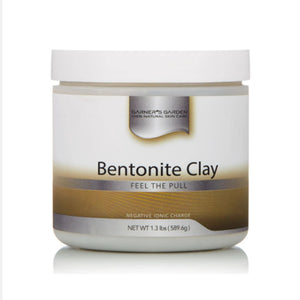 Garner's Garden - Organic Bentonite Clay Mask 1.3 lbs
100% Pure, Organic Bentonite Clay to assist in detoxification, skin/allergy conditions, and to assist with providing minerals for the body. Use the natural healing clay powder as a face and body mask, as well as shampoo. There are a variety of other uses for this clay, please do your research.
Our Bentonite Clay for the skin is sourced from the Wyoming region and it is recommended for external use.
After using the Organic Bentonite Clay Mask, your skin will feel very tight and dry. We suggest pairing this with the following products:
IMPORTANT: Do not allow this natural healing clay powder mask to come into contact with any metal surface once it is activated by water. This product was not intended to be used internally. This is sodium bentonite. 
Ingredients: Sodium Bentonite