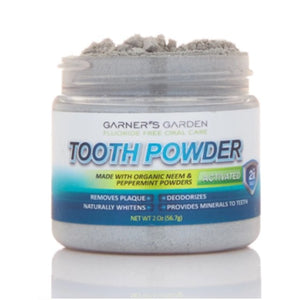 Garner's Garden - Organic Tooth Powder
4 oz | Remineralizing Tooth Powder – what in the world is tooth powder?? Garner's Garden has developed an all-natural teeth whitener that doubles as an effective oral deodorizer that focuses on not masking oral odor, but rather adsorbing (yes, aDsorbing) odor-causing bacteria that reside in your mouth. It will also assist in whitening your teeth over a period of time. Pair this oral care product with Garner's Garden Antibacterial Mouthwash and Oxy Pulling Pre-brush Oral Rinse for the most effective results.
Directions: Please watch our short video on how to use our tooth powder: https://www.youtube.com/watch?v=gWVf2iPWTO0
Benefits of ingredients used:
Activated Charcoal: To make it simple, activated charcoal pulls toxins from the mouth and removes stains. It is also helpful in changing the pH and health of your mouth and assists in preventing cavities and adsorbing the bad bacteria present that causes tooth decay and gingivitis. The reason why it helps whiten teeth over a period of time is that "[Activated charcoal] is shown to be attracted to a group of compounds known as tannins. Tannins can be found in common stain-inducing items.
Bentonite Clay: Bentonite Clay is a unique clay due to its ability to produce an "electrical charge" when hydrated. Upon contact with the fluid, its electrical components change, giving it the ability to absorb toxins. Bentonite is known for its ability to absorb and remove toxins and impurities.
Kaolin Clay: This clay is very high in calcium, silica, zinc, and magnesium and it helps to whiten and polish teeth. Even those with very sensitive teeth can use this 2x a day without sensitivity issues.
Baking Soda: When baking soda is put into the mouth, the free radicals from the mixture interact with the stain molecules on the teeth enamel and oxidize the yellow and brown stains on the teeth. Besides oxidizing (scraping off) the stains on the teeth, baking soda also removes plaque from the teeth. Plaque removal prevents the teeth from decaying and also freshens the breath.
Optional Upgrade
Organic Neem Powder: This is one of the most effective ingredients for the overall prevention and protection of your oral health. Neem helps with soothing irritations and reducing inflammation.
Organic Peppermint Powder: Naturally combats against bad breath, whitens teeth, and soothes gums. This powder does not provide flavor. For flavor, please pair this product with our mouthwash - the two products were meant to be used in conjunction with each other.
* This listing is for the Remineralizing Tooth Powder ONLY. Purchase our pre-brush oral rinse or anti-bacterial mouthwash separately or in a package together. Please see our other listings.