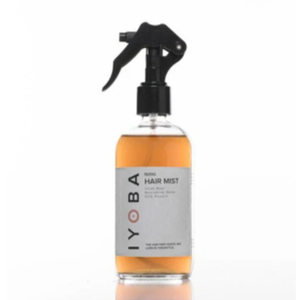 *AS SEEN IN VOGUE*
THE HAIR FAIRY EXISTS. SHE LIVES IN THIS BOTTLE.
Our Herbal Hair Mist is a gentle, natural formula that can be used to style and maintain healthy hair. Silk protein and Irish Moss make this a deeply conditioning & softening anti-breakage formula. Rosemary, sage and tea tree are included to regulate scalp oils and replace them with lightweight moisture.
Use Herbal Hair Mist as a detangler and leave-in conditioner to maintain hair & scalp health. The formula it easy to apply and works across many hair types and styles including braids, locs, natural curls, protective styles, and naturally straight hair.
Ingredients:
spring water infused with rosemary, lavender, calendula, hibiscus flower, orange peel, marshmallow, pau d'arco, peppermint, Irish moss, nettles, rose petals, silk protein, IYOBA's essential oil blend, green tea extract, non-paraben preservative.
Directions:
Apply to wet or dry hair for use as a daily leave­-in conditioner, detangler, curl enhancer, and styling aid.