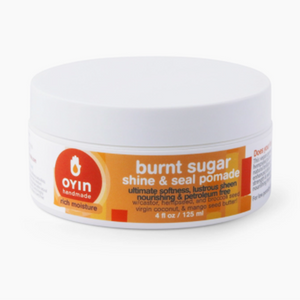 Oyin Handmade - Burnt Sugar Humectant Hair Pomade
Our sugar pomades are petroleum-free, sheen-enhancing powerhouses that help shine & seal your hair. Formulated with castor, unrefined hempseed, and broccoli seed oil, our pomades are the perfect final step over a liquid or cream moisturizer in your natural moisture retention regimen.
This completely vegan blend of oils, butter, and veggie waxes acts as humectant and protectant for hair, increasing shine to a high glossy sheen, locking in moisture.
Why you need it: 
• 100%  non-greasy vegan formula.
• petroleum-free for breathable pores. 
• nourishes your scalp and hair strands.
• helps prevent breakage
Usage: begin with our hair tonic or hair dew leave-in lotion to add moisture. Apply a small amount to roots or ends and brush if needed. For extra hold, tie-down with a satin scarf overnight. Store in a cool, dry place.  
Tip from our mixtures: rub between your fingers or palms to soften/liquefy.