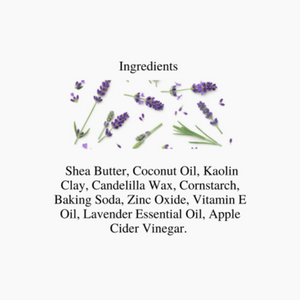 This natural deodorant for kids was formulated with sensitive skin in mind and will keep PITS funk-free ALLLLLL day! 
HAPPY
Infused by Lavender Essential Oil- helps keep eczema/ dry skin at bay because of its antifungal properties.
Lavender can increase the feelings of relaxation and calm

2.65 oz (75 g)
Even on the dullest of days HAPPY can turn your frown upside down. 
 Ingredients: Shea Butter, Coconut Oil, Kaolin Clay, Candelilla Wax, Cornstarch, Baking Soda, Zinc Oxide, Vitamin E Oil, Lavender Essential Oil, Apple Cider Vinegar.