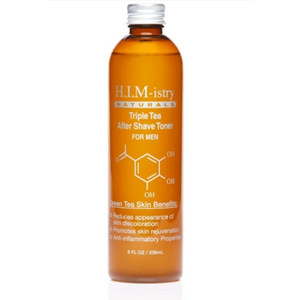 H.I.M-istry - Triple Tea After Shave Toner For Men 8 Fl Oz / 236ml
Treat your skin to a triple-dose of rejuvenating power with this blemish reducing lightweight toner. Green Tea's natural astringents help the skin maintain its smooth, blemish-free texture. Lactic Acid gently exfoliates the skin while reducing the appearance of fine lines, wrinkles, and acne on the surface, while Glycolic Acid reduces the appearance of blemishes, blackheads, whiteheads, and fine lines from within.
Direction: Shake well before each use. After cleansing or shaving, splash your face with cold water. Then, saturate a cotton pad with the toner, use toner on your face and neck.
Refreshing and cool. Smells amazing.
Triple Effective Toner
The Triple Tea after shave toner from H.I.M-istry really helps soothe a close and clean shave. It's very refreshing and cool, which keeps irritation to a bare minimum. The nice smell also relaxes you and helps your day start and be the best it can be!!!