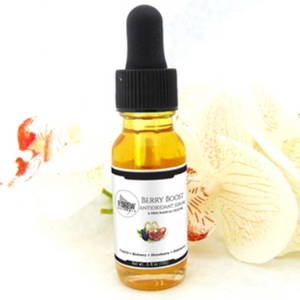 R. Drew Naturals Berry Boost Antioxidant Face Elixir
Refresh, renew, and brighten the look of your skin while enjoying the scent of fresh berries with our Berry Boost Antioxidant Elixir! This protective elixir is made from all-natural ingredients including strawberry seed oil, blueberry, pomegranate, daikon seed, elderberry and CoQ10.
The strawberry oil gives it a naturally delicious scent and the combination of nutritious oils work to protect and restore your skin from daily damage. The elixir is perfect for mature skin types and anyone concerned about the loss of youthful glow.
It is high in antioxidants which are thought to help protect the skin from the free radicals that can accelerate the aging process. The wholesome ingredients work together to promote radiant and healthy-looking skin.
Use the elixir daily along with your favorite moisturizer. You'll love how easily the elixir is absorbed into the skin, leaving you with a wonderful berry fragrance and smoother-looking, brighter, glowing skin.