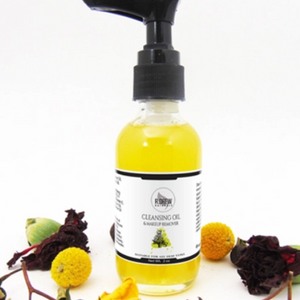 R. Drew Naturals - Cleansing Oil & Makeup Remover
Get rid of dirt and makeup naturally with our natural oil cleanser with safflower. This luxurious oil cleanser is suitable for all skin types and includes a special blend of natural ingredients to clean and soothe your skin.
Keeping your skin fresh and clean is an essential part of keeping it looking and feeling beautiful and healthy. Although it may sound strange if you're not familiar with the idea, using natural oils as a facial cleanser works just as well than store bought cleansers without over drying the skin. This is because the natural oils dissolve dirt and grease while at the same time moisturizing and nurturing the skin.
Our safflower oil cleanser is formulated to rinse off clean without leaving an oily residue. The formula for this oil cleanser includes a thickening ingredient to slightly increase the viscosity of the oil blend for a perfect texture that will allow an easier application opposed to liquid running away from you.
2 oz glass bottle with pump