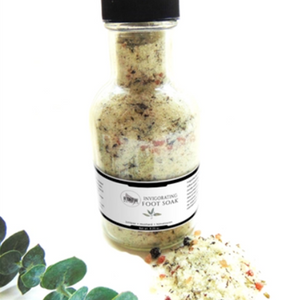 R. Drew Naturals - Invigorating Foot Soak
Invigorating Foot Soak is a natural treatment that lavishly conditions, softens and revitalizes overworked feet while relieving swelling to provide comfort.
The addition of Mustard Powder and Epsom Salt will reduce inflammation, while Himalayan and Black Sea Salts will help draw out toxins and relieve aches and pains to combat cramping and soreness.
Colloidal Oatmeal comes along to prevent and treat dry, rough, scaly, itchy feet, while Juniper Berries with its anti-inflammatory properties disinfects and relieve bruises and sprains.