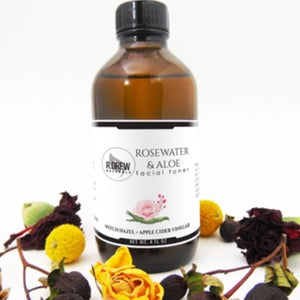 R. Drew Naturals - Rosewater & Aloe Facial Toner
Rosewater & Aloe Facial Toner is formulated with the highest quality of balancing, cleansing and softening ingredients to restore the skin's pH level, gently remove environmental toxins and even out skin tone, while protecting against bacteria and free radicals. It leaves your face refreshed, toned and prepped to receive our Regenerative Facial Serum (or your moisturizer). Rosewater & Aloe Facial Toner begins with, Rosewater.
Rosewater is a natural antiseptic with anti-inflammatory and anti-bacterial properties that can be helpful in the prevention of acne. It helps moisturize dry skin, removes excess oil, encourages pore toning, regulates sebum, promotes balanced skin and is wonderful for all skin types. An abundance of Witch Hazel is added for its antioxidant, healing, anti-inflammatory, soothing and cooling properties. It's an antiseptic that seals in moisture, refine pores, cleanses the skin and it can reduce redness of skin due to irritation.