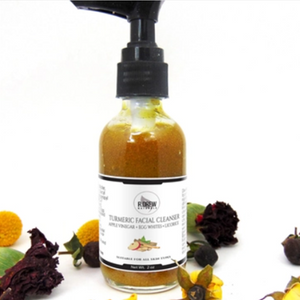 R. Drew Naturals - Turmeric Facial Cleanser
Turmeric Facial Cleanser is ideal for oily, acne prone, combination and normal skin types. It is a clarifying and nourishing face wash that will deeply cleanse your skin, remove impurities, toxins and dead skin while leaving your skin refresh, soft and glowing. It has a modest, rich lather and nice citrus scent derived from therapeutic essential oils.
Bonus: Apply facial cleanser like you would foundation and allow it to remain on skin for a minimum of 5 minutes to serve as a mask. Then, cleanse as normal in a circular motion with hands or face brush to achieve a brighter complexion.
Turmeric Facial Cleanser ingredient highlights:
* Turmeric is widely used to improve the skin's texture and even out the skin tone. It has anti-inflammatory properties and boosts healing
* Licorice Extract - helps reduce inflammation and soothe irritated skin, while has brightening the skin
* Egg Whites - improves skin texture, enhance moisture, tighten pores and removes excess oils
2 oz glass bottle