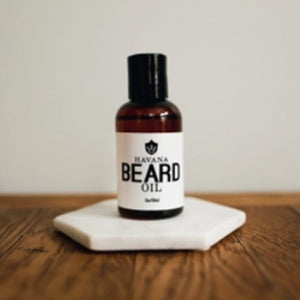 Dapper Guru - Havana Beard Oil
When you're trying to relax after a long day, you don't want a scratchy beard to get in your way. Designed for the modern man that prefers life's little luxuries, the Havana Beard Oil can help you maintain a soft, smooth beard.

Explore the main features of this quality handcrafted beard oil:


Enjoy the signature scent of the Havana Beard Oil
Soften your beard hair while stimulating hair growth
Includes coconut oil, sweet almond oil, and jojoba oil
Additional healing from aloe extract and vitamin E
Easy to apply and easy to carry – perfect for travel!
Handmade for perfection 

The handmade Havana Beard Oil is the perfect solution for taming your beard. It is made with a blend of the finest essential oils, including coconut oil, sweet almond oil, and Jojoba oil.

Along with these powerful oils, each bottle of Havana Beard Oil contains aloe extract and Vitamin E. This provides even more healing and hydrating properties.

All you need to do is apply several drops of the Havana beard oil and comb or massage into your beard hair. The combination of oils will keep your beard hair fully nourished throughout the day. This makes it easier to comb and prevent irritation.


 INGREDIENTS: 
Botanical Name: Caprylic/Capric Triglyceride, Prunus Amygdalus Dulcis Oil, Argania Spinosa, Simmondsia Chinensis, Aloe Barbadensis Leaf Extract, Tocopheryl Acetate, Fragrance 

Common Name: Fractionated Coconut Oil, Sweet Almond Oil, Argan Oil, Jojoba Oil, Aloe Extract, Vitamin E, Fragrance